It's no secret that I love to take photographs, and I don't think I'm too bad at it. But last month I decided it was time to call in the pro's. So, I got in touch with Caroline Trotter of Caroline Trotter Photography and asked her if she, and her food stylist husband, would like to take some awesome photographs of my afternoon tea!
I was delighted when she said they would, and yesterday I made the trip to her studio in Leven with a boot full of cakes and treats to do just that!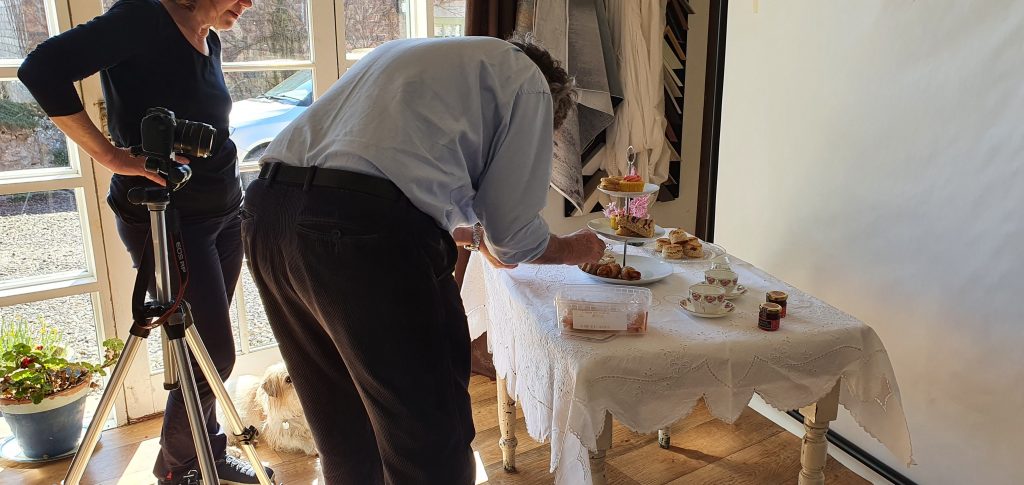 Food styling is half the battle
It was such a treat for me to have a fresh set of eyes and hands to set up my afternoon tea. Getting the styling right is half the battle, which is why I specifically wanted to work with the Trotters. A photographer and chef partnership couldn't be more perfect for me.
So much work goes into the set up. Moving a jug left a bit, then right a bit, then back again in between checking the view in the camera takes time. It's amazing how different things look in the camera compared to real life. But, it is so important to get things just so. The hard bit for me was keeping out the way, and letting them work. I'm not good at that part at all!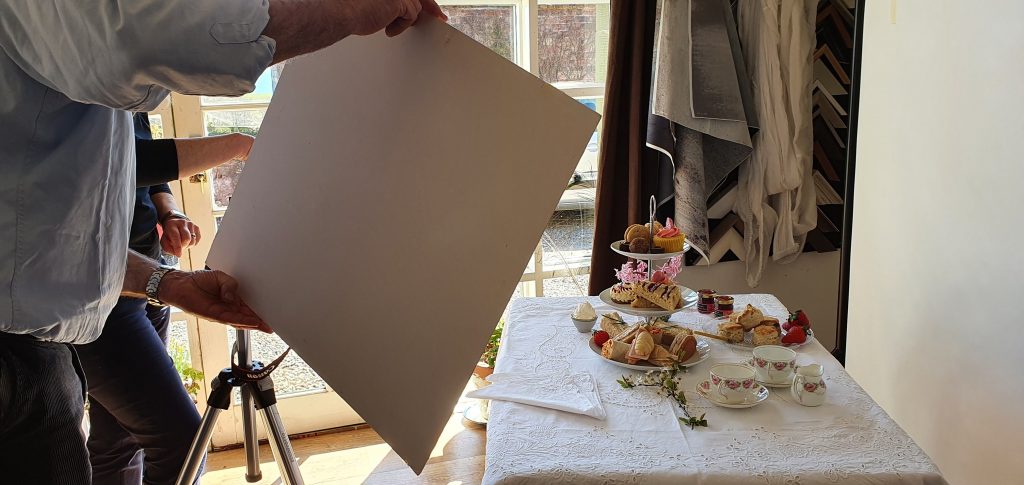 Afternoon tea picnic? I'll take two…
It was a stunning day so we picked two outdoor locations to set up and shoot. We hadn't planned it that way as you can never really trust the weather round here, as you know. I mean only the day before it was snowing! But, we couldn't resist getting outside and showing off the afternoon tea treats in the Scottish sunshine.
I'm loving that Mungo kept a keen eye on things throughout. He was such a good boy, every office needs a Mungo!
Finally, we set up a picnic in the woods. If there had been time we could have set up so many more options as Caroline's garden is just so pretty. Good excuse to go back in the summer for another shoot, I think!
I can't wait to see what Caroline captured. This is just a snap I grabbed on my phone. Isn't the set up pretty? I just wanted to grab a cushion and get stuck in! Hopefully it won't be long before we can start taking afternoon tea picnics with our friends and family. I did it last year at the end of the summer with Mr M. It was so much fun to sit out with our posh picnic at Camperdown, the other picnickers were so jealous, haha!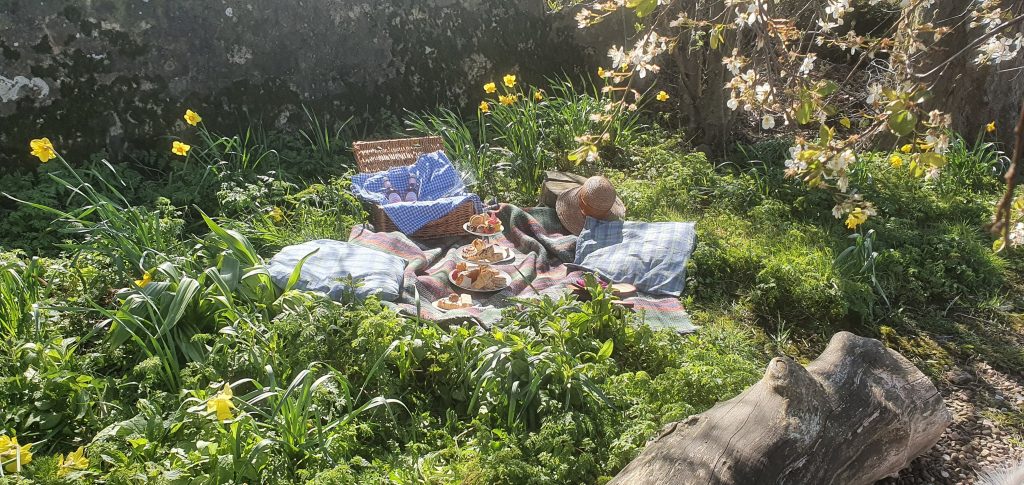 I can honestly say I had the best time. It was such a treat to work with such lovely people, and I learned so much. I can't wait to see the finished photos, they'll be pride of place on my leaflets and I'll be sharing them all over social media too.
Nothing Wasted
The treats didn't go to waste after shooting, don't worry. I hate food waste so we saved what we could and divided them up between us.
Mungo and Tilly were well rewarded with a couple of savouries each too. We couldn't leave out the pups, they were so well behaved.