We take our scones very seriously at For Cakes Sake! Of course we do, a bad scone can spoil an Afternoon Tea and we simply won't have that!
They can be tricky little things, and getting the perfect one can take a bit of practise. But don't worry, we have put together our top sconey tips so you can make great scones too…
Keep them cool
First, your butter must be cold. If you are lucky enough to be in a warm climate, then you might even have to freeze it. Cold butter will not mix properly in your dough. This is good as the melting butter will create lovely pockets of steam during baking. Even warm hands can melt the butter, so keep them cold too, if you can.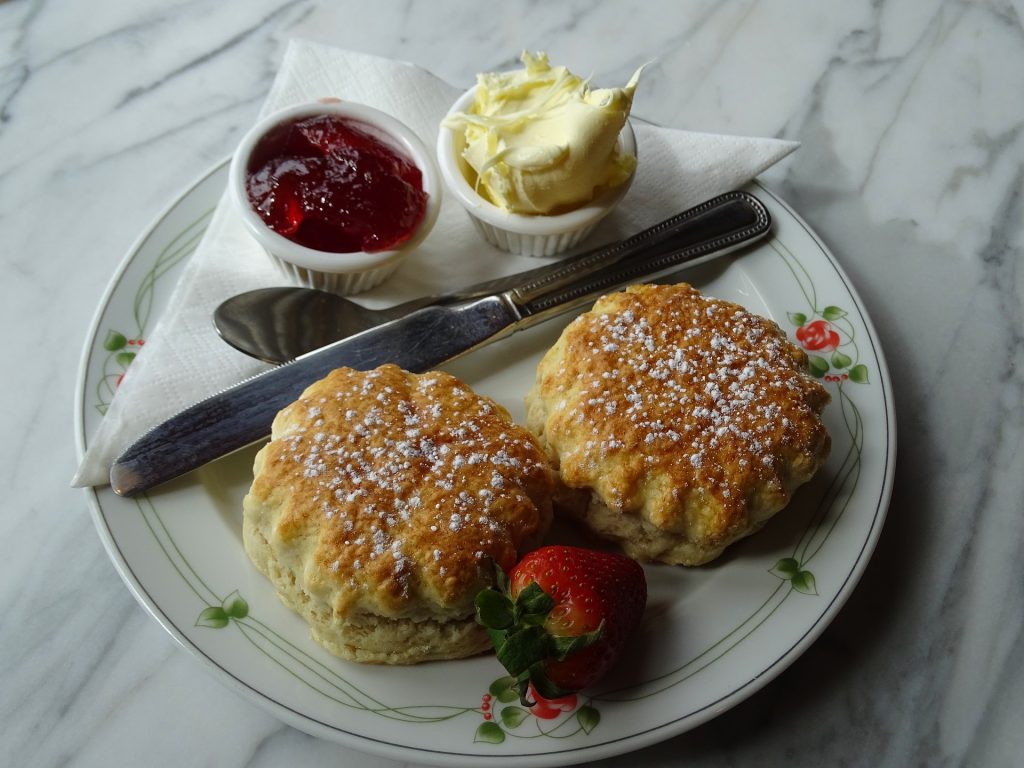 Choose to use buttermilk instead of milk. It will react with the baking powder which will make your scones rise. This will make them nice and light in texture. It also adds a lovely tangy flavour to the scones.
Freeze your fruit! Yep, if you are using fruit in your scones, freeze it first. The fruit will defrost and cook just fine, but the coldness of it will keep your butter from melting too quickly.
Don't work too hard
Don't over work your dough. This is so important. If you over mix your dough, gluten will start to tighten, and your scones will be dense and chewy. Stop mixing as soon as the ingredients are all incorporated. For this same reason, you should only re-roll your dough once after cutting out your scones.
Never re-roll your dough more than once!
Always stir the flour and baking powder and then sieve it. This ensures the baking powder is evenly distributed throughout the dough. Sifting will add air and lightness to the dough.
Don't twist your cutter when you cut out the scones. If you twist as you push down, then the dough will also be twisted, and that will stop your scones from rising evenly. You should also place them upside down on your baking tray, they will rise better if they are facing the same direction the cutter went.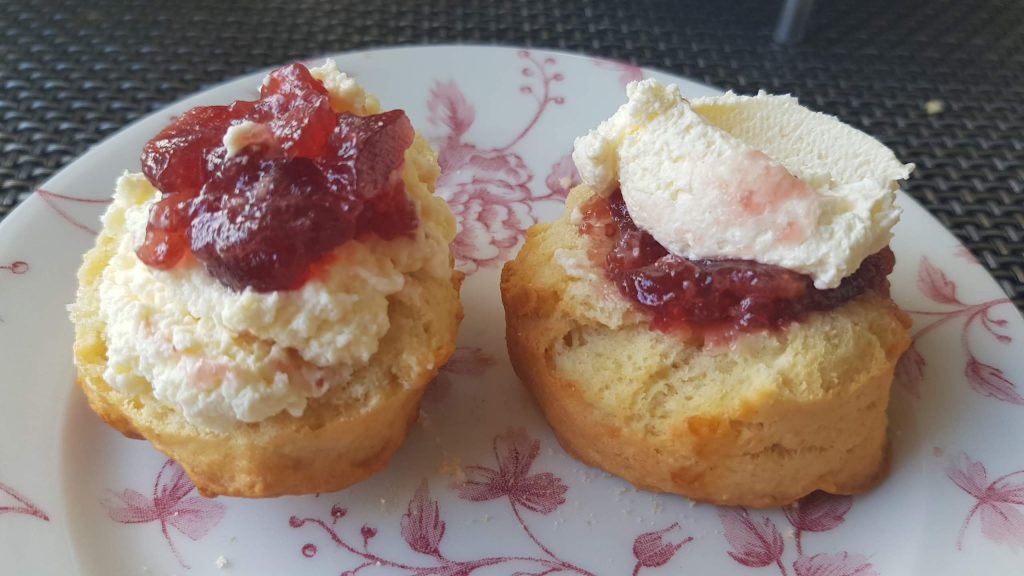 Use your freezer
We make these en-masse, but most recipes make around twelve scones. If you only want one or two, then what do you do with the rest? The dough itself freezes really well, so you can make and cut it days ahead of time. All you have to do is defrost and bake. Perfect if you want to impress your friends with your baking skills, but time will be short. I recommend this when you are making a full Afternoon tea, it is just another job you can get out of the way in advance. You can also freeze the freshly baked scones if you seal them tightly in ziplock bags. Simply defrost and gently reheat whenever you need just one or two!
Enjoy!