Mother's Day is on the horizon, so why not treat your mum to a delicious afternoon tea? Although you can't celebrate in-person, Amber Sims from personalised gift specialists EverythingPrinted shares her top tips for organising a virtual afternoon tea party for your mum this Mother's Day.
Mother's Day is fast approaching but, like last year, it might look a little different to what we're used to. Although you might not be able to spend the day with your mum, you can still make the occasion one to remember by hosting a virtual afternoon tea party.
With a little preparation, you can make the most of the day, sharing some quality time together over tea and cake. To help you pull everything together before the 14th March, I'll be giving you my advice for hosting a virtual afternoon tea party this Mother's Day.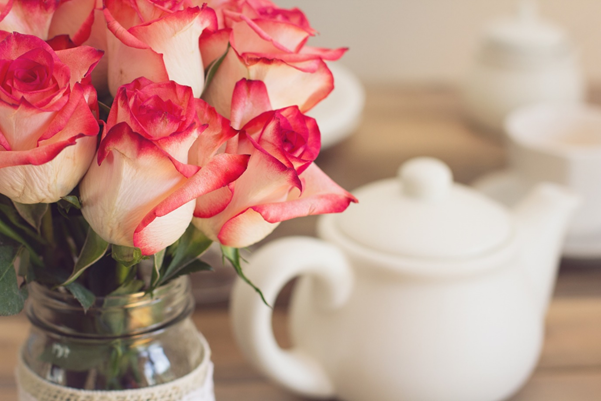 Sort out your cards and gifts
You'll want your mum to be able to open her cards and gifts on camera, so it's worth planning them in advance so you can get them sent out to her. Although your afternoon tea will be part of your gift, you might want to give her a small token, such as a mug, photo frame, or a piece of jewellery. You could even gift her something she can use for her afternoon tea, such as a teapot, tea set, or some beautiful champagne glasses.
Personalised gifts always go down well and can add an extra special touch to show your mum just how much she means to you. It might be a good idea to get your gift engraved or printed with your name and Mother's Day message. You could even add your favourite photo.
It's important to remember that personalised gifts are made to order and may take a little longer to arrive, so it's best to order them as soon as possible to make sure they're ready for the day.
Organise the food and drink
Once you've bought your gifts and card, you'll then want to think about organising the afternoon tea. The easiest way to do this is by going through a specialist company that will make afternoon tea platters to order, such as Mrs Mitchell's. We even offer a delivery service throughout Dundee, Broughty Ferry and Monifieth, so you and your mum can have your afternoon tea delivered to your house just before your call.
You'll no doubt have a selection of tasty treats to choose between, from Mother's Day afternoon tea to custom afternoon tea boxes, so all you'll need to do is decide which selection suits your mum best. Alternatively, you could send her the list so you can plan your afternoon tea together.
No afternoon tea is complete without your favourite brew, so don't forget to add some tea so you have something to drink. For an extra special treat, you could also send your mum a bottle of fizz to enjoy with her sandwiches and cakes!
Plan the call
Once you've got everything organised, you'll then want to plan the video call so you can spend some quality time with your mum while you enjoy your afternoon tea together. You'll need to decide which platform would be the best for both you and your mum to use. Zoom is free and relatively easy to use, so I'd recommend using this app for your Mother's Day afternoon tea. However, Google, Microsoft, and other platforms you may already have an account with will likely have their own video conferencing software, too.
You can use Zoom on your laptop, phone, or tablet. All you'll need to do is head over to their website or, if you're using your phone or tablet, download the app. Then, follow the steps below to set up your account and start a call:
Click the 'Sign Up' button and enter your email address.
You'll get an email from Zoom with a confirmation link. Click the link and enter your email address and password again. Your account is now set up.
Follow the steps above to create an account for your mum.
When you're logged into your Zoom account, you can plan a new meeting by clicking 'Schedule A Meeting'. On mobile, this will be under the 'Meet & Chat' page. This will let you choose the date and time you want to schedule your call, so you know you're ready to go on the day. You can also set up a password so only you and your mum can join.
Click 'Schedule' (or 'Done' if you're on mobile).
Zoom will give you a link to your call, which you can send to your mum through text or email. To make the event feel even more special, you can send out an email invite giving your mum all the details of her afternoon tea, complete with the date and time along with the link and instructions on how to join the video call — hopefully avoiding any technical difficulties on the day!
Your mum will need to click on the link to join the call. This will take her to the app, where she'll need to press 'Join'. You'll then be able to see each other and chat while you enjoy your delicious treats.
While you're on your video call to your mum, you'll be able to add fun backgrounds to your screen. You can make it look like you're enjoying your afternoon tea on a tropical beach or even on the set of your favourite TV show!
Zoom has a whole host of virtual backgrounds you can try out. All you'll need to do is download the image you like from the web to your computer. Then, head over to 'Preferences' in the settings and click 'Background & Filters'. Here you'll see a list of preloaded options as well as the option to add your own using the '+' icon.
To add a background while you're on the call, just click the up arrow next to 'Start/Stop Video', then select 'Choose Virtual Background' and click the option you want.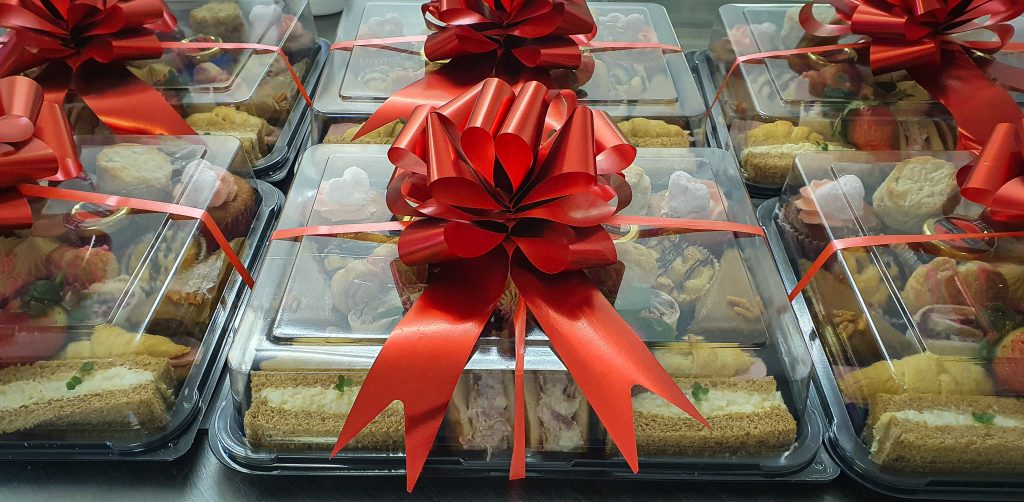 Find the perfect spot
Before joining your video call, you'll need to find the perfect spot in your home to host your Mother's Day afternoon tea. Somewhere well-lit with a good internet signal is best. You might also want to choose an area of your house with a table or pull up a temporary one at your chosen spot. This will give you somewhere to place your afternoon tea goodies as well as your laptop, tablet, or phone.
Put up decorations
Once you've found the perfect spot for your call, you might want to put up some decorations to create a sense of occasion. For example, you could hang some floral bunting on the wall behind you, or you could display a vase filled with your mum's favourite flowers. You could also get special Mother's Day cake toppers to finish off your afternoon tea treats.
Before joining your call, remember to pop the kettle on and get out your best tea set (and remind Mum to do the same) so you can get the full experience.
Although this Mother's Day might be a little different to usual, you can still make the most of the occasion by hosting a virtual afternoon tea. So, why not show Mum just how special she is and get planning?
Thanks to Amber Sims at EverythingPrinted for her great tips.
Now that you know how to plan your Mother's Day afternoon tea party, why not take a look at the selection of afternoon tea boxes we have available that would be perfect for the occasion?