Getting married next year, and running a business that specialises in afternoon tea, has really got me thinking about interesting ways I could combine the two.
It has also got a lot of my guests thinking too, and they haven't been shy when it comes to enquiring about the catering!
So here are nine ways we came up with (in no particular order) that you could include Afternoon Tea as part of your wedding journey…
Engagement Afternoon Tea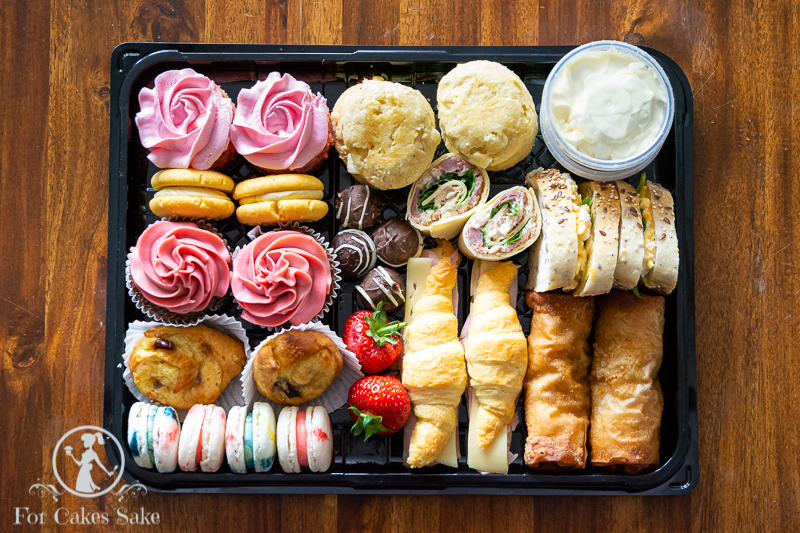 The lights are dim, the kids are in bed, the prosecco popped! Then he appears with a For Cakes Sake Takeaway Afternoon Tea Box. It's already a perfect evening.
You've had a Date-Night Tea before but, this one is different. Today you notice a ring glistening on top of a single cupcake. And, beside that, there are two macarons, one reads YES and one NO!
You pause (for dramatic effect) and hover your hand over the macarons for a moment. He looks nervous as you reach forward to select the YES macaron and hand it back to your (now) future husband!
The perfect start to your Afternoon Tea Wedding Journey, and a great story to tell people at the engagement party!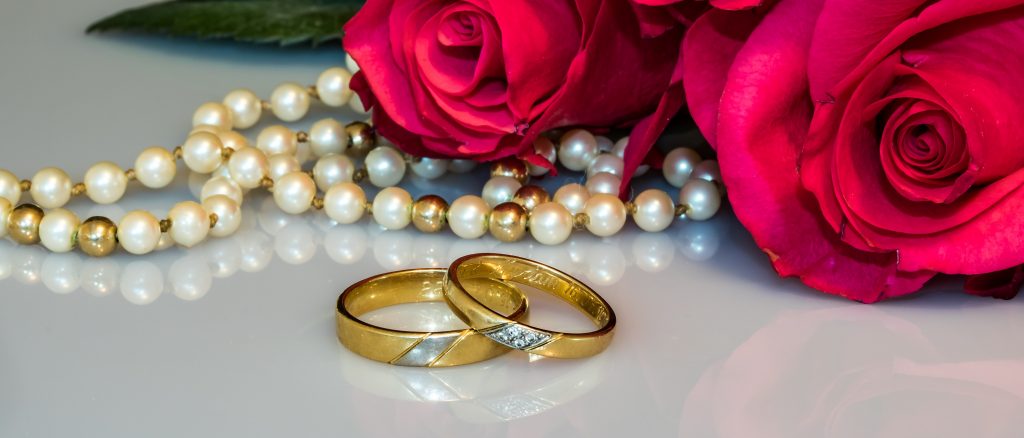 Let us know your ideas and we are happy to discuss different ways we can help to make your proposal special.
The Engagement Party
Surprise the whole family with your happy news at your engagement party. Hire a room or marquee, or dress up the house, and treat them all to an Afternoon Tea, Tea Party. They'll be talking about it for years.
We'll even bring the cake stands!
Afternoon Tea Wedding Reception
What a fab way to personalise your wedding reception. More and more people are deviating from the traditional way of doing things, so why not cut tradition and have an Afternoon Tea served at your reception?
This would work especially well if you are getting married early in the day, your Afternoon Tea could be served mid-afternoon, and then you're all ready for your party food and wedding cake in the evening!
For Cakes Sake can cater for up to 200, or more from our kitchen in Dundee!
Afternoon Tea Hen Night
Kick off the party at home with an Afternoon Tea, some bubbly and a bit of pampering. Such a lovely way to start your hen night – the girls will all love it, especially the ones that aren't fit for an all-nighter!
You could invite a team of masseur's, a couple of make-up artists and a hairdresser or two, and enjoy your treats while you get ready for your evening out on the town – you'll look and feel fabulous as you head out!
Free local delivery in Dundee for parties over 10!
Meet the Parents
I particularly love this idea. It's a special time when the parents meet each other for the first time. Keep it intimate, and memorable, relaxing at home with a For Cakes Sake Afternoon Tea. There'll be no time limits, which is important. Stock up on your favourite wine, there'll be no worries about the bill. Everyone can just relax and enjoy getting to know each other, in comfort.
And, as a bonus, if there is any drama, you'll keep it private!
Our parents have yet to meet, so this is definitely going to happen for us.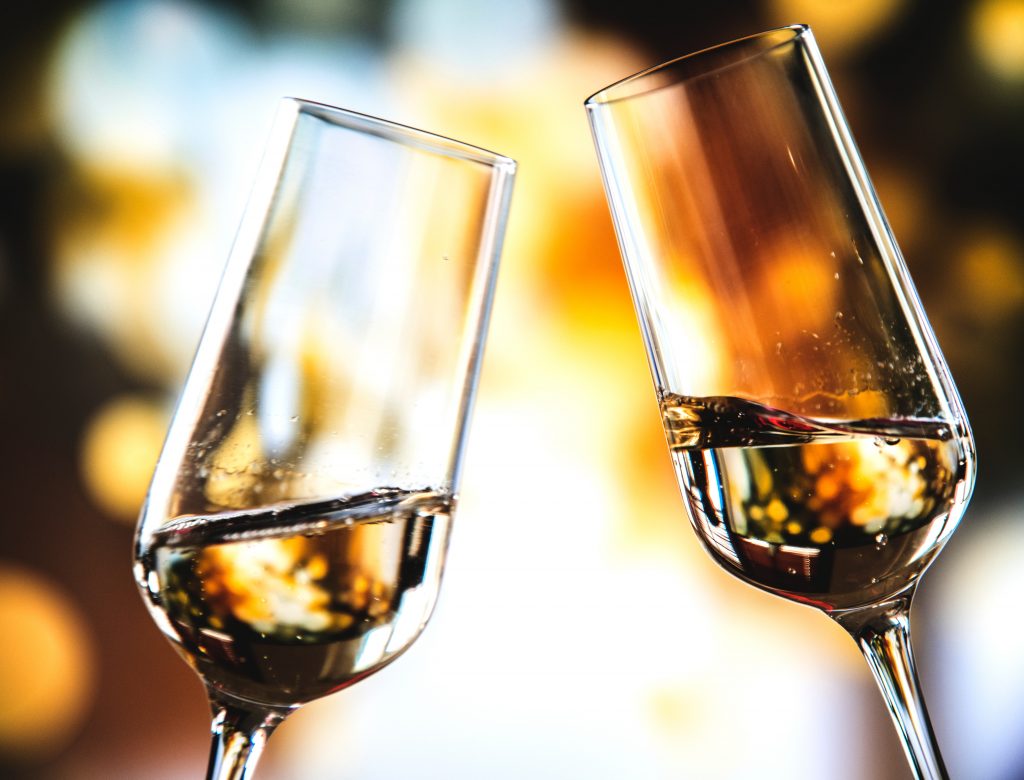 Pre-Wedding Reception
If you're like me, your family will be scattered all over the place. We've got people in England, Northern Ireland, Africa, USA and more. So we're starting our wedding a day early. And what better way to do that, than by inviting your closest family and friends to an Afternoon Tea Reception the day before your wedding.
It'll give everyone time to catch up, and make new friends before your big day. Plus, it'll be a welcome de-stress from your upcoming wedding.
Ask your venue if they'll let you have it there, or dress up your mum's house, I'm sure she'll not mind!
Bridesmaids and Groomsmen Announcements
Yep, why not have a special party to invite and announce your bridesmaids, maid of honour, best man and groomsman.
They'll never suspect a thing if you invite them all over on a Sunday afternoon for lunch and cakes, and you can surprise them with our awesome Afternoon Tea spread.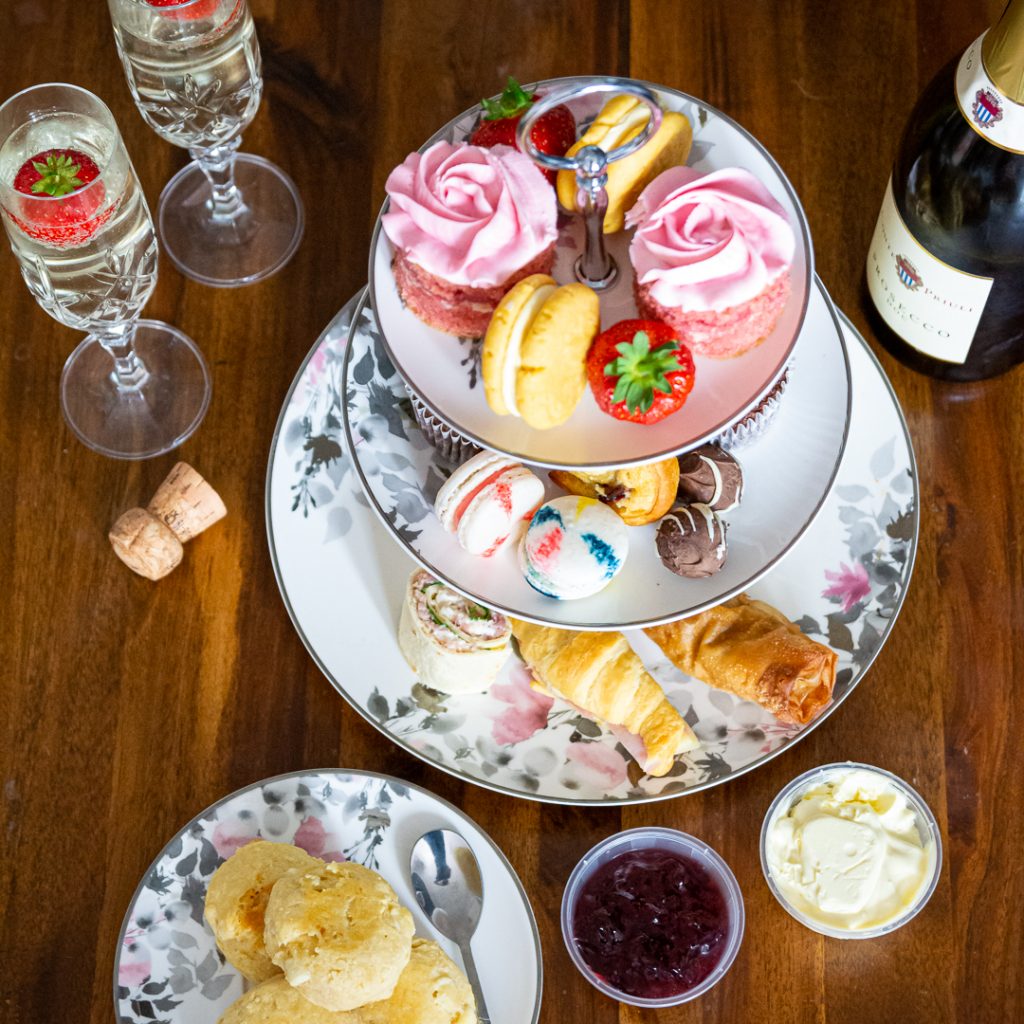 Say Thank You
What better way to thank the people that have helped make your day special than with an Afternoon Tea Party at home. Save this for after the big day and you could also show off your Wedding Album at the same time!
Or, why not gift a For Cakes Sake Afternoon Tea Box voucher for them to enjoy in their own way, and in their own time, at home, as a picnic, or even as part of a road trip!
Wedding Video Watch Party
Re-live your special day with your nearest and dearest, in your own comfy sofa, with treats and wine. Watch the video, giggle at the photo booth shots, swap stories and show off the album, all while feasting on a delightful For Cakes Sake Afternoon Tea.
I can't think of a better way to spend the afternoon, and I will definitely be doing this.
How might you include Afternoon Tea in your Wedding journey?