The Hermitage, Dunkeld
Located just off the A9 in Dunkeld, Perth and Kinross. This magical forest not only hosts the tallest trees in Britain, the thundering Black Linn Falls, and a hidden totem, it is also a pretty fabulous place to have a Takeaway Afternoon Tea for Two!
Just pick up your food and go!
The Hermitage is not too far from our kitchen in Dundee, only 28 miles, or 50 minutes in the car. So, it is ideal if you want to pick up an Afternoon Tea Box on your way. We'll even throw in some disposable plates and cutlery, and some tea, if you tell us you are heading straight off for your luxury picnic!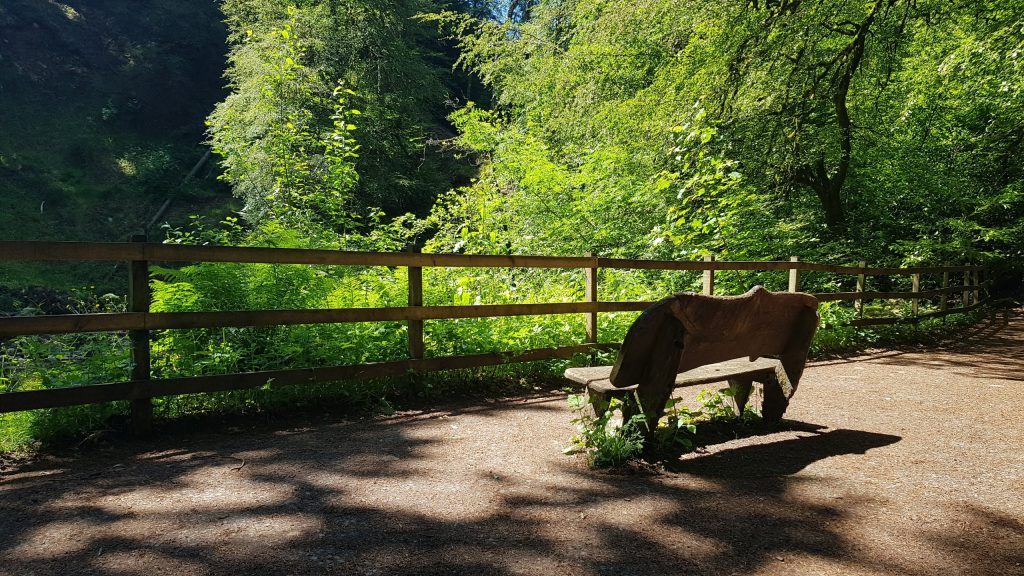 There are plenty of walks you could do here, with the most popular one taking you along the River Braan to the Rumbling Bridge before it circles out and returns back to the car park. This walk takes an estimated two hours and will certainly go along way towards working up an appetite for your Takeaway Afternoon Tea.
I love the fact that there is plenty of car parking here, and much of it is sheltered, so you might be saved from returning to a burning hot car during the summer. There are also toilets available, although there is currently a small charge for maintenance. In any case, this is a huge bonus for me. I love to get full use of the facilities, wherever I go!
1st Course – Savouries by the River
Once you get going, you'll notice that the views are amazing wherever you are. There are so many fabulous spots that look out over the peaceful river, while you take in your Afternoon Tea Savouries.
If you continue along the river you'll soon come accross the amazing Black Linn Falls. This is a perfect place to lay out your blanket and enjoy your scones, jam and clotted cream.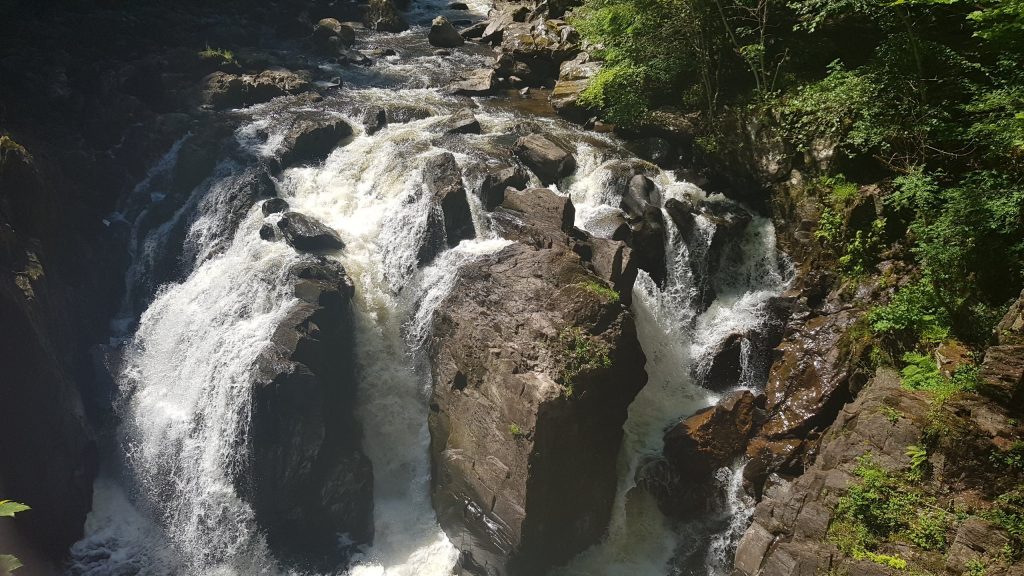 2nd Course – Scones, with Jam and Cream by the Waterfall
There is an amazing view from the balcony at Ossian's Hall – as long as you don't have a thing for heights, which I do! So I didn't hang around too long there. I'll take my scones round the corner, thank you very much, where I can enjoy a view of the river, falls and the bridge without feeling like I might fall in!
Back on solid land – this is much more my style. Plus there is plenty of room here to lay out the picnic blanket, or take a seat on this sheltered bench. The falls are very much audible and visible from here. Such a treat to take a lazy walk through the woodland whilst enjoying three courses of Afternoon Tea.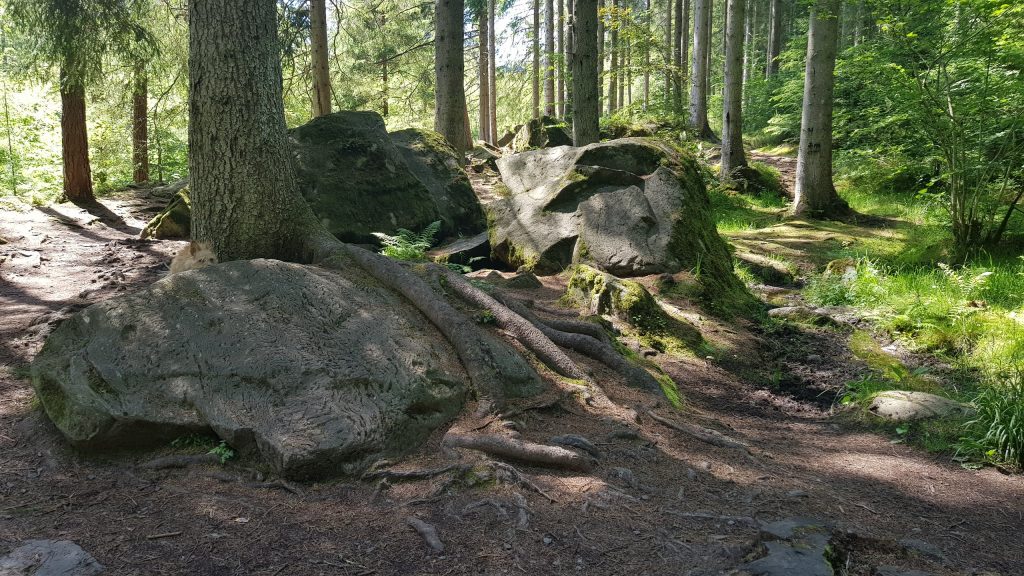 3rd Course – Cakes and Treats Under the Trees
Enjoy the sweet treats here, under the trees, while the dog peeks out at you! Just make sure she doesn't pinch your cakes – they're far too good to share!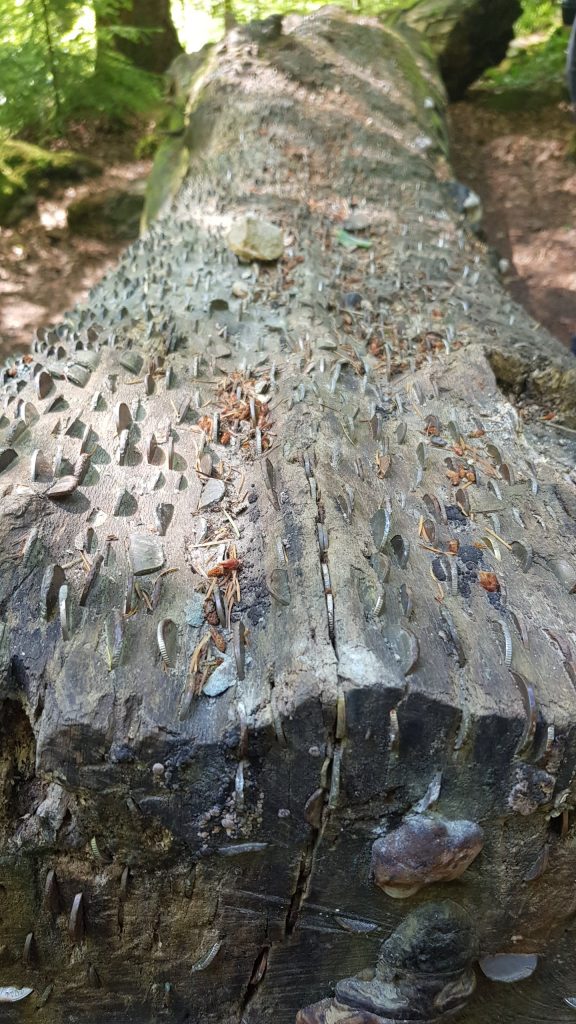 There are plenty of things to explore along the way, so the kids will be fully entertained as you wander through the trees. We found plenty of nooks, cranny's and caves as we ambled through the park. We also came across quite a few fallen trees and stumps with coins pushed into them. These are the wishing trees; make a wish, hammer a coin into the tree, wish comes true – simples!
Once your Afternoon Tea picnic is finished, you can take the long way back to the car park to freshen up after your meal. Or, if you are feeling a little stuffed there is a shorter route!
Long Walks, Fresh Air and Afternoon Tea
We had a fabulous walk here. It was such a treat to take our Afternoon Tea away from a stuffy cafe or hotel, and out into the fresh air. Wilma had a ball too as she rambled in and out of the undergrowth, and over the rocks. It wasn't safe for her to be off lead by the waterfall, but the rest of the walk was very dog friendly.
Want to experience it for yourself?
You can, order your Afternoon Tea Box by Wednesday lunchtime for collection on Saturday – simples!