We love a special occasion at Mrs Mitchell's – its the perfect excuse to be a little creative and invent a new recipe, or two!
We also love to spoil people, so we relish the challenge of making a fabulous new afternoon tea box that you'll be proud to gift or share with your favourite people!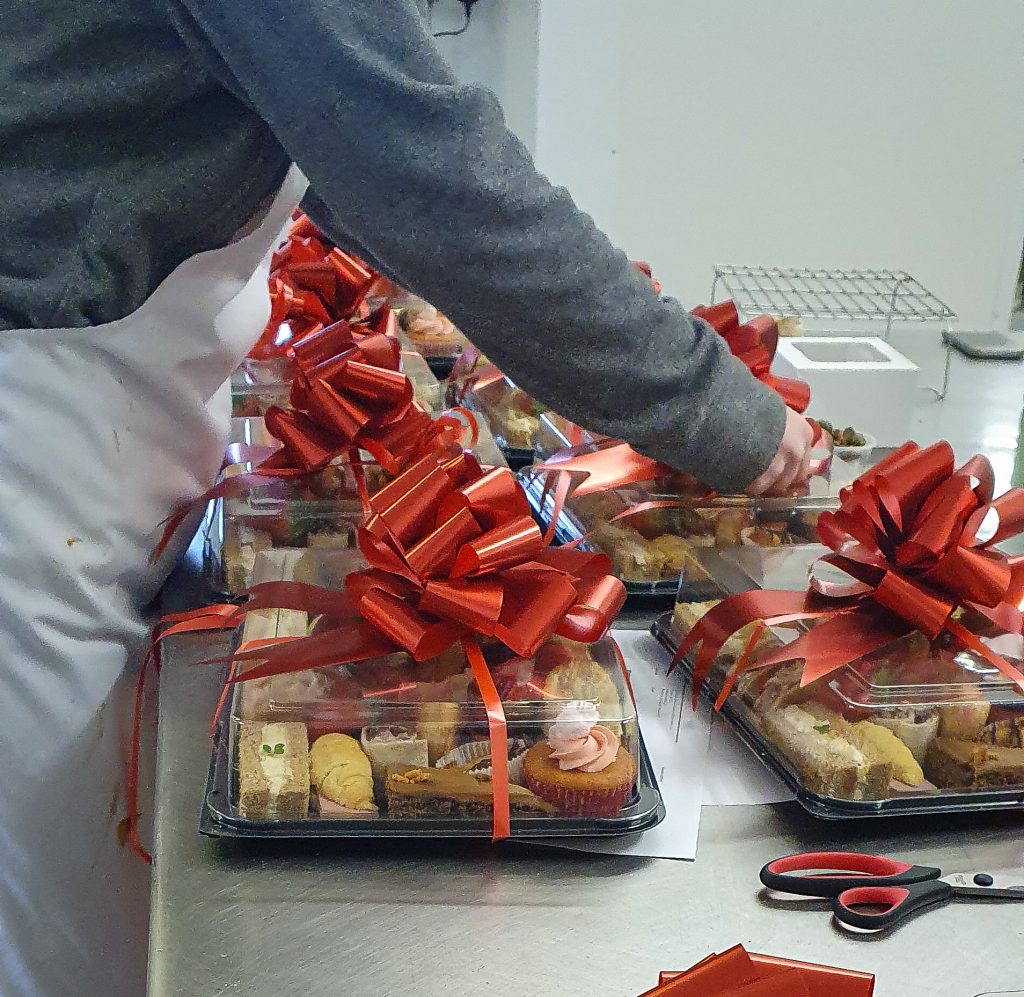 Every occasion we break a new record.
Last Christmas we got out of bed super early, in order to make the most afternoon tea's ever! Then this Valentines day we broke that record again and did the most ever deliveries in a single day. Extra people were brought in to help, and we delivered every box in plenty of time – and that was despite the heavy snow that had brought Dundee to a halt a few days earlier!
We try to have an afternoon tea box for every occasion. Here are a selection of my favourites from the last year. They just get better and better every time we design a new one.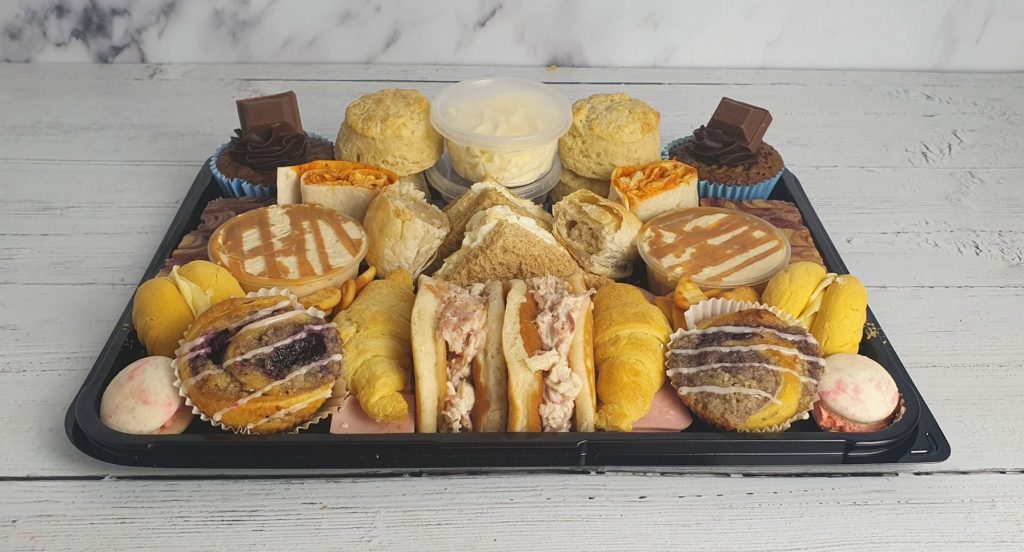 I'm so looking forward to our Mothers Day box that is coming in a few weeks. I think you are too as we have already sold out, and I'm currently trying to figure out if and how it might be possible to add more availability – a new record maybe?
New recipes
Some new recipes are so good that we keep them on our regular menus. Here are a few that we loved the most.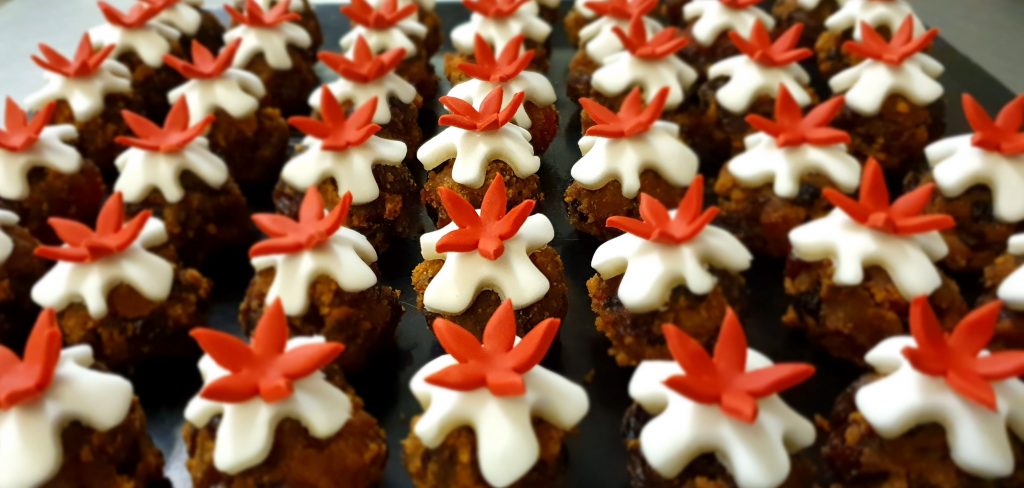 I'm not sure that people will be expecting the Christmas Cake bites in the summer, so we'll just have to wait for those. You'll have to wait until Christmas to get your hands on a Christmas Cruffin too, which I also think is pretty cruel as I adore them, but there you go, lol!
The gingerbread sandwich, invented for Christmas 2020, has been a firm favourite on our winter menu, and one that we were able to keep while the weather is chilly.
Pancake day 2019 challenged me to come up with a variety of ways to use a pancake in an afternoon tea buffet. As such, the savoury chicken and bacon pancake was born! This has been a surprising favourite ever since – they are addictive little things. So they made an appearance on this years mothers day afternoon tea menu, and last years fathers day menu too. It is also available to order on our custom menu and is a popular choice!
And those Valentines cheesecakes are sooo pretty that I'll definitely find a way to keep them going. Although, they do serve two people and that is quite annoying because I really think afternoon tea's should have a small bite of everything – no sharing!
Any suggestions?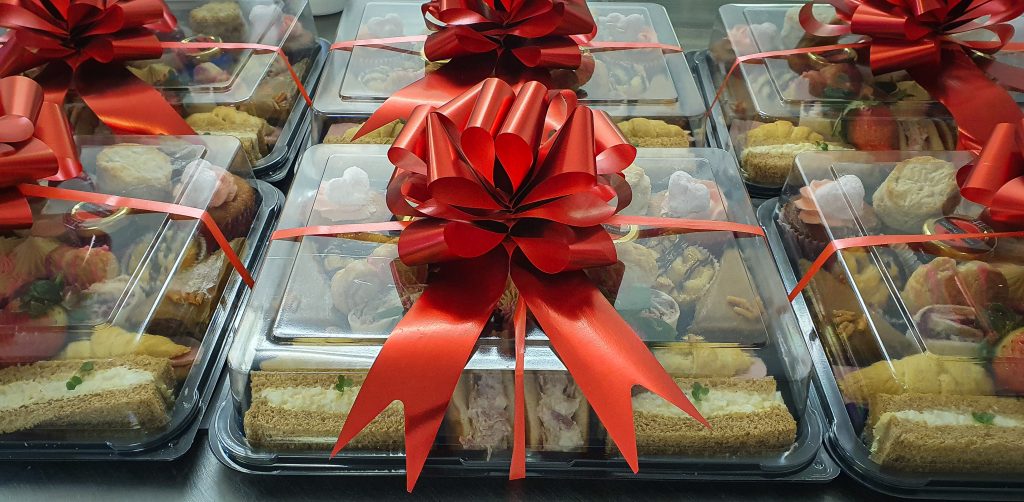 Coming soon…
The movie night/date night munchy box will be coming back to a Friday night near your, later this year.
April will see the return of our Easter Afternoon Tea Box which will be available throughout the Easter Weekend for the first time. I am already working on a pretty awesome recipe for a Chocolate Palmier. My dark chocolate pots are bound be included, as will my Black Forest Slice, I'm sure.
And, of course, we will be celebrating our 2nd birthday in early June. And Fathers Day will be later on that month too.
I'm sure they'll be other excuses to make a new menu, as I just love a themed afternoon tea. Suggestions are always welcome!
Stay Up to Date…
If you are interested in out Afternoon Tea Specials then you'll be the first to hear updates by signing up for our newsletter. Or, you can keep an eye out for our latest news on our Facebook or Instagram pages!
Or you can see any special boxes that are currently available to order here!