Hosting your own afternoon tea party can be a daunting prospect, but it needn't be.
Whatever you are planning, whether it's an elegant soiree, a cosy catch up with friends and family, a pamper party, date night, a product launch, birthday party, office party, or even a funeral, here are our best tips for a well organised and memorable event.
Get organised
It's never too early to start thinking about your fabulous tea party and how it might go. Here is a list of key questions you might consider as the big day approaches…
What will the guest list look like?
Does anyone have any special dietary requirements?
Will there be alcohol?
Might there be children?
Will you serve your afternoon tea buffet style or as a sit down meal?
What kind of background music will you play?
Will your party have a theme?
Do you need any additional serving dishes, cake stands, tea cups, cutlery?
Will you need some help? Professional, or otherwise?
Is there enough seating?
How will you decorate the space?
Will you need to rearrange the furniture?

Prepare ahead
The more you can do in advance the better. And we don't just mean the baking. Although, you would be wise to do as much of that as you can in advance. Or, even better, to outsource it completely to your favourite afternoon tea catering company, leaving you free to enjoy a clutter free kitchen throughout.
We suggest you organise all your table wear and linen at least a week in advance. This will give you the opportunity to make sure it is all clean and undamaged. And, if you do come across any problems, there will still be plenty of time to overcome them, without the need for a last minute panic!
The food
The perfect afternoon tea should include a varied selection of sweet and savoury treats, plus a couple of scones each. That's sounds a lot, but each piece should only average at around three/four mouthfuls. The idea is to sample lots of little delights.
We've written a handy little blog about how to create the perfect afternoon tea menu!
The night before
If you haven't already, we highly recommend assembling your cake stands the night before. They can be tricky little things, and they take much longer than you think to put together. You might also set your table the night before too. Doing it well in advance will allow you the freedom to really take your time and enjoy making it all look fabulous. Knowing your table is laid out beautifully, and you don't have to worry about it, is a huge relief too. Why not treat yourself to a glass of wine (or two) while you arrange your table. After all your hard work, I'd say you've earned one!
Set up early
It will take much longer than you think to arrange all your lovely treats on your afternoon tea cake stands. It takes us an hour to set up a party for 24. So please give yourself plenty of time and don't rush it.
Hopefully, your guests will be excited at the prospect of one of your afternoon tea parties. This does mean that the odd one might come early. And, we all know someone that likes to feel useful and will want to help – they are likely to arrive ahead of time too. Allow for this when you decide what time to begin arranging your cakes and treats. You might appreciate the help, or you might prefer your guests to be wowed by your fabulous offering in all it's glory. Either way, don't forget to factor that in when you are scheduling the morning.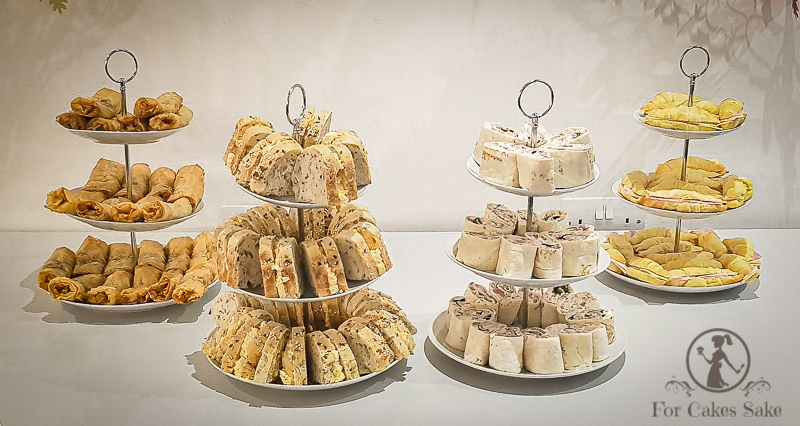 What's on the drinks menu?
Afternoon tea is not just about the food. What you serve with the food is almost as important.
If you are aiming for a more traditional affair, we recommend a lovely Earl Gray or a simple breakfast tea, maybe with a cheeky glass of Prosecco or Champagne on the side.
Perhaps, you would prefer a Gin themed afternoon tea with the girls. Or maybe you would like to offer a selection of herbal teas. You could warm it up with some hot chocolate or mulled wine, or why not go all out and hire a cocktail waiter and make it an afternoon/evening to remember – perfect for a hen night!
What will you do?
Afternoon tea goes beautifully with most activities. But, we have a few suggestions for you that will elevate any afternoon tea party.
If you are planning a quiet afternoon with the girls then a movie might be just perfect. A board game might be a better choice for a family afternoon tea.
Maybe you'll want to add a touch of luxury and make it a pamper party. All you need is a nail artist, a hair dresser and a masseur and you'll all feel like princess' by the end.
For a larger party, you might prefer to encourage your guests to enjoy each others company and stick to some lovely background music. Or, you could go all out with a live singer, harpist or a even a band! But, why stop there, you could hire a lookalike entertainer, an up close magician, or even a local comedian. Let your imagination go wild – just maybe avoid a bouncy castle!
Don't forget about the kids! They won't want to sit around at a formal afternoon tea, so you'll be wise to make sure you have something age appropriate to keep them from getting bored.
Don't rush your guests
No one likes to rush afternoon tea so you should allow plenty of time for your guests to enjoy your wonderful hospitality.
For a more formal afternoon, we suggest setting aside at least half an hour to an hour for reception drinks. This will allow plenty of time for you to great your guests. It'll also allow time for late comers, and will mean everyone will be ready to sit down together.
If you would prefer a more casual affair, then a buffet style tea with a rough start and finish time might suit you better
Either way, a full sized afternoon tea should be enjoyed over at least two hours. If you keep the tea, coffee and fizz flowing, then no one will be in any rush to leave.
Don't skimp on the sides!
It's easy to underestimate just how much jam and cream you might need, especially as the guest list grows. If you are serving two mini scones, or one large scone per person, then I suggest around 30-40g each of jam and cream should be enough for each guest. You can cut down on the jam a little if you are offering fruited scones. You might also like to offer butter with your scones.
Have takeaway boxes at the ready
Hopefully there won't be too much in the way of left overs, but we suggest you have a stock of small cake boxes on standby, just on case. Don't ask, just box everything up and hand them out when people leave.
Finishing up!
No one likes this bit, but once the party is over it is time to clean up. If your favourite afternoon tea caterer brought your food in you won't have a massive pile of baking dishes to clean. If you were lucky enough to also be supplied with cake stands then they can be set aside ready to be returned.
But no matter how much work is left, first pour yourself a glass of something fabulous. It's time to revel in your awesomeness at hosting a great party. The washing up will still be there later.
What are your top tips for hosting an afternoon tea party?